Keeping the Consumer at the Heart of Innovation – Innovate Podcast with David Lennox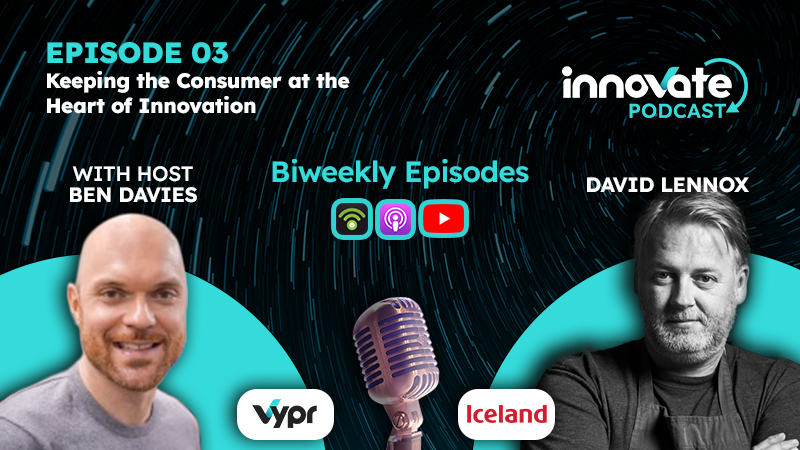 ---
Keeping the Consumer at the Heart of Innovation – Innovate Podcast with David Lennox
The Innovate Podcast is a biweekly series of discussions with CPG Innovation experts, on how to innovate with success in an ever-changing world.
In the third episode, our host Vypr Founder Ben Davies was joined by Iceland Head of Product Development, David Lennox.
Ben and David discussed innovation during the cost-of-living crisis, the application of technology to the development process, and the importance of keeping the consumer at the heart of all decisions.
Listen to the full episode using the links below, and don't forget to subscribe so you never miss an episode.
Listen on Podbean, Listen on iTunes or Watch on YouTube
Read the highlights below.
Through the episode, David really emphasised the importance of listening to the consumer to improve the way we innovate.
How Listening to the Consumer can Fuel Success
David identified the issue of how, when it comes to product development, many companies can lose sight of what's most important – the consumer.
When companies are not well connected to the consumer's voice, internal subjective opinions and guesses can take the lead. This leads to products that are not optimised for their intended target audience.
"I don't think everybody's listening to the customer, I think they're listening to themselves."
"You really need to listen to your customer… if you don't you're just doing it for vanity."
Keeping consumers at the front of mind can avoid this issue, and also deliver benefits all round – read on to find out more.
Listening can help during challenges such as the cost-of-living crisis
When it comes to adapting to the current issue of rising inflation, delivering what consumers really want to see is key to optimising products accordingly.
Additionally, David emphasised that businesses should put the same effort into everything to deliver great innovation, and not just cut prices but work to deliver what these consumers want. Consumers are particularly focused on value, which he also identified as important to communicate.
"It's going to be tough for everybody… as a team and in general everybody just needs to look at it's the opportunity to be innovative rather than… take 10p off that or 20p off that. How do we get to the same product by not having that 20p to spend is the challenge."
"We need to make sure we're getting the value in there – it's still a great product and it still tastes great."
Listening helps you develop better, more relevant products
David emphasised the importance of listening to the consumer particularly when businesses are faced with a lot of information on current trends, and trying to decide what to develop.
Often companies chase trends even if they're not sure how to make them work for their business. David highlighted the need to not only look at trends, but decipher them properly and listen to the customer to find out what's right for their business, instead of chasing anything 'popular' and trying to make it work.
"I don't chase after the dream, I'd rather be a little bit more realistic and go listen to customers."
Listening helps target attention and improves process
When asked what David's team does differently now, he discussed the importance of changing process, incorporating consumer needs into it.
Instead of listening to generic product ideas based on a team member's subjective opinions, it's important to make sure the consumer is being listened to. This means attention is targeted to products that will do well with consumers instead of ideas based on vanity.
However, this needs to be combined with a better process. One issue he identified with current innovation processes was that everybody is still very focused on a stage-gate process, which slows the whole thing down. Furthermore, this slow speed combined with the subjectivity mentioned above could be detrimental to business.
"Getting the process much slicker and more… agile rather than go 'we have to hit gate 1 at this time, gate 2 at this time' and if you don't hit gate 3 you're not going to launch, it's at best 42-43 weeks long which is way too long… that's kind of what we're doing wrong, we're still doing the same thing we did when I joined the industry 12-15 years ago, nothing's really moved on"
By having more Agile processes and using technology to stay up-to-date with the consumer, companies can also learn and move forward more quickly, to think about the next steps to take to develop other ranges and grow.
"Being able to react a lot quicker and land stuff a lot quicker will help innovation."
Technology is going to be key to driving further change in the industry, and is already being adopted by other sectors. Read more on this below.
Learnings from other sectors – technology
David and Ben discussed learnings that can be adopted to improve innovation.
Technology was a big factor they identified, especially contributing to the quick development and turn-around times in the plant-based / vegan category, which is very R&D focused, in terms of innovation.
"Just look at the vegan category, they're doing amazing things every 6 months"
The general industry and specially the manufacturers in other sectors could learn by looking at this area and applying the findings of how they're moving forward using technology.
David also said that technology will drive more changes in the future, even in consumer behaviour. As people get more savvy online, the 'age of convenience' will continue to increase massively.
"People are getting more savvy online, I mean how many amazon boxes do you get in a week, this [shows phone] has changed everything, you can get what you want when you want. I think the age of convenience is going to massively increase because people are losing time, they haven't got as much money, [technology] will help them check prices instantly rather than having to drive… they just go online and do it there"
—
All in all, there is plenty of opportunity to learn and improve to transform the world of innovation by listening to consumers and adopting technology, as we discovered in this episode.
Want to get all the insights? Listen to the full podcast on-demand. Click the links below to listen on your preferred platform.