Making Innovation Successful with Emma Beale from Waitrose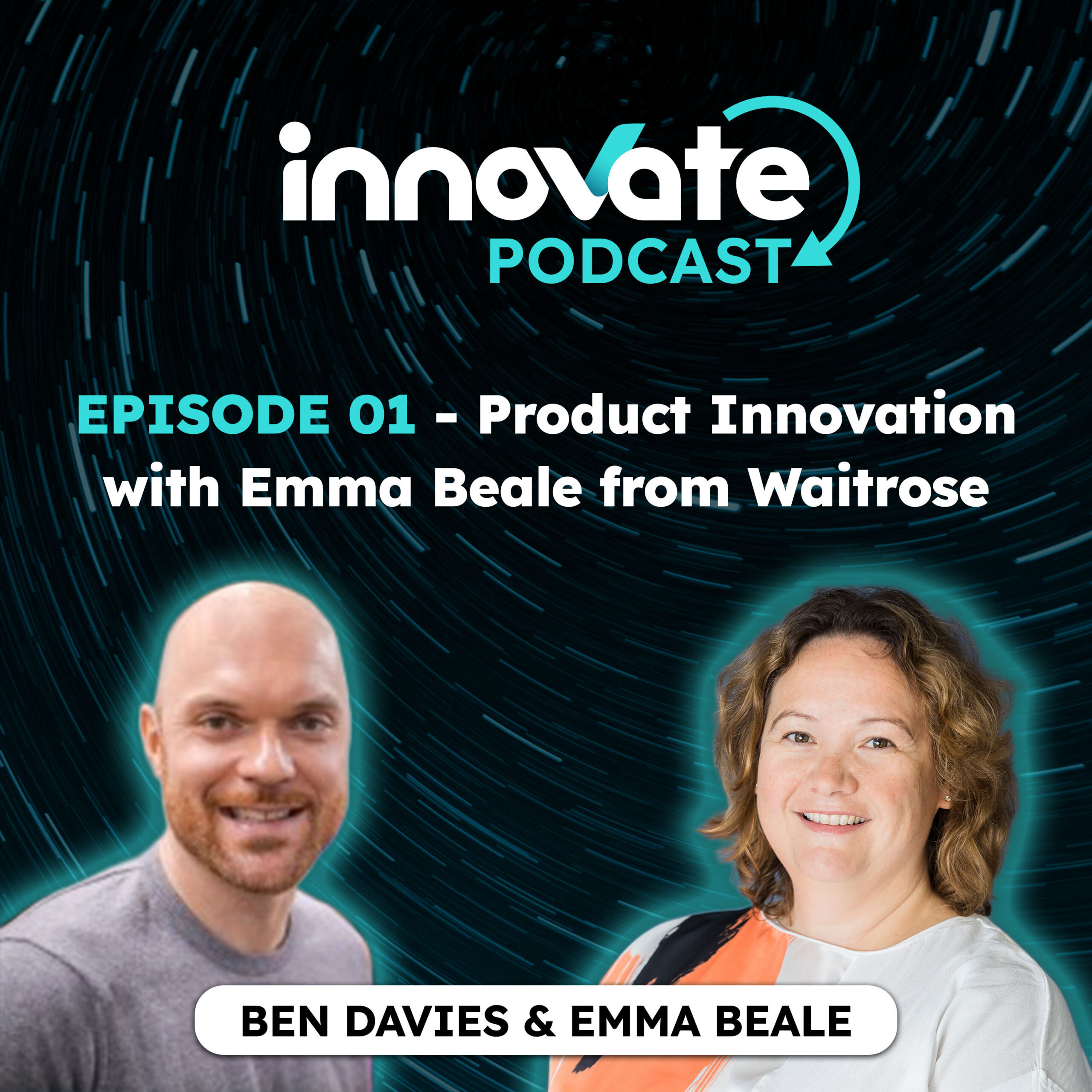 ---
Making Innovation Successful – The Innovate Podcast with Emma Beale
The Innovate Podcast is a biweekly series of discussions with CPG Innovation experts, on how to innovate with success in an ever-changing world.
In the first episode, our host Vypr Founder Ben Davies was joined by Waitrose Head of Product Innovation, Emma Beale.
Ben and Emma discussed learnings from other sectors' innovation, adapting to industry challenges, and ways to make innovation more successful.
Listen to the full episode using the links below, and don't forget to subscribe so you never miss an episode.
Listen on Podbean, Listen on iTunes or Watch on YouTube
Read the highlights below.
Learnings from other sectors
The plant-based industry
One sector that has grown quickly through innovation is the plant-based sector. Ben and Emma both agreed that this sector has been extremely innovative in generating new products for targeted audiences.
"They've had to work very hard to deliver something that's as good as eating meat, as there is a group of customers that are looking for that, and they've done it through innovation." – Emma Beale
Emma also commented that the sector has been very innovative in meeting barriers to purchase and have invested, especially in technology, which is a key learning – she spoke about the importance of refocusing investments in technology to advance product innovation across sectors.
Along with learning from other sectors, it's important to keep an eye on what's affecting consumer behaviour in the industry to target innovation strategically. Ben and Emma discussed one big industry challenge, the cost of living crisis – read on below to get the highlights.
Adapting to industry challenges
The cost of living crisis
The current cost of living crisis that has seen prices soar across industries is clearly affecting consumer behaviour, as we discovered in previous Vypr research.
When it comes to product innovation in this situation, Emma emphasised the importance of communicating the value of products to consumers (more than just the price on shelf).
"How you communicate value in all of its forms is going to be what will make innovation successful in the next couple of years… even now you see people fine-tuning their communication stances so that customers are getting the value message of what you're trying to sell." – Emma Beale
After all, more consumers are looking for the most value out of their purchases, and this has been found across multiple sectors.
Communicating value is one factor in making innovation successful based on the current climate, but some other important factors that were mentioned in this episode are summarised below.
Making Innovation Successful
Emma discussed some important factors that are relevant to innovating successfully, such as:
Staying Agile
With the industry constantly changing, the importance of staying Agile to adapt is key.
"The market just changes underneath your feet, this time last year we weren't prepared for wheat prices up where they are, packaging prices up where they are, and a cost-of-living crisis that people would be facing into the summer… I think that demand for being agile and constantly updating and changing will continue." – Emma Beale
Streamlining Processes
Emma mentioned the importance of streamlining processes with technology to allow data to flow freely and allow a faster time to market, meaning more revenue.
"I think the stage-gate process… in principle there's nothing wrong with that, it's the sheer complexity of the bits in-between… and that's what I would like to see streamlined through technology as soon as possible." – Emma Beale
Constantly Learning and Testing
To mitigate risks, the team at Waitrose has put more effort into investigating upfront, and evaluating to constantly improve.
"Much more upfront testing of concept ideas, of packaging ideas in particular, so that it lands right first time." – Emma Beale
"Sharing learnings back so we don't make the same mistakes twice." – Emma Beale
Emma emphasised that the team are now approaching sign-off on ideas with much more data than ever before – all important factors to successful innovation.
We hope you enjoyed this summary from the very first episode of the Innovate Podcast.
Want to hear all the insights? Listen to the full episode on-demand! Click the links below to listen on your preferred platform.